Quick Start Guide
3 easy steps to installing the decoder and app
LocoFi™ Locomotive Configuration Cheat Sheet
Configure your locomotive for optimal / prototypical performance
Sounds
Notes: Unzip the downloaded files to a directory and copy them directly to the microSD card. Please use the supplied SD card adapter if needed. Check out the video on how to replace the microSD card in the module. You are free to edit the downloaded files as long as you agree to use it in the LocoFi™ modules only. Please see the Quick Sound Editing Guide above for details on how to edit the sounds.
Knowledge Base
LocoFi™ App Release Notes
Version 2.01 - Released: August 31, 2018
---
Released 31-Aug-2018 1. Minor bug fix
---
Version 2.00 - Released: August 31, 2018
---
Released 31-Aug-2018 1. Ability to upgrade firmware from within the app 2. Ability to assign custom names to locomotives 3. Colors added to locomotive tabs to indicate status
- Green: Firmware is current; no update required
- Orange: Firmware is not current; firmware update available
- Red: Unknown device or app; firmware update required 4. Versioning system implemented for scalability and wider compatibility across devices, app and firmware versions 5. 'Pull down refresh' provided on home screen 6. Several performance improvements for more robust app Other notes:
Firmware update requires loco restart and can be performed only when the prime mover is not powered up.
Latest firmware included with this app version. Each future app update may or may not contain a firmware update.
After the app has been updated, each loco's eligibility for firmware update will be indicated on the respective loco dashboard and can be initiated from there.
Firmware update is required to be able to assign custom names.
Loco name can be edited only when it is not being managed. After editing a loco name, please wait for the loco to reboot and app screen to refresh with the new loco name.
To delete your custom loco name and to revert to the default factory set name, simply edit the loco name and leave it blank before hitting ok.
If your old loco name is still visible on the main screen, it is stale data. Please exit the app, clear the app from Android recent apps list and restart the app.
Occasionally, it can take longer than usual for the locos to be discovered by the LocoFi™ app. 'Pull down refresh' the home screen to re-initiate discovery.
---
Version 2.10 - Released: December 16, 2018
---
1. Ability to configure locomotive. Starting with:
- Auto reversing lights
2. Introducing cab sounds and throttle vibration haptic control
3. Ability to set app preferences. Starting with:
- Toggle skip 'Engineer Name' screen
- Toggle cab sounds
- Toggle vibration haptic control for throttle
4. Ability to 'Reboot' loco from the main screen
5. Pull down refresh added to 'Add Loco' screen
6. Several minor bug fixes for a more robust app Watch the following video for more details: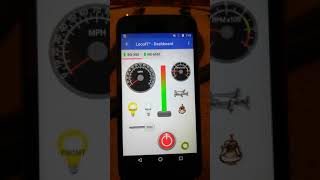 ---
Version 2.21 - Released: October 10, 2019
---
Bug Fixes:
----------
1. If 'Reverse engine direction' is "ON", after power up, the engine still goes in reverse until once the reverser is set to reverse and then forward back again.
---
Version 2.20 - Released: March 25, 2019
---
1. Added more loco configuration options [please consult 'LocoFi™ Locomotive Configuration Cheat Sheet' under 'Resources' for explanation of these settings]:
- Reverse lights direction
- Reverse engine direction
- # of speed steps
- Start speed step
- Start step delay
- Max speed step
- Scale speed
- Max display speed
- Speed units
- Momentum/Inertia
- Coast
2. About Loco added [displays basic diagnostic information about loco]
3. Ability to reset to factory settings [deletes all settings and formats the file system]
4. Support for Android 4.x going away
5. Several other performance improvements
---
---