News & Announcements
Sign up

for our newsletter and be the first to receive news, announcements, product updates and more...
E-mail Newsletter Archive
13-Jan-2019: Pricing changes, Sounds and more ....
---
HAPPY 2019!!! MAY THE NEW YEAR BRING YOU TONS OF FUN WITH MODEL RAILROADING! _______________________ 1. PRICING AND RELATED POLICY CHANGES Lower Prices LocoFi™ DDLLHA will now carry an MSRP of $120.00. As usual, extra savings and special promotional discounts will apply. TruQuantity™ We are temporarily suspending TruQuantity™. Currently, not all customers are able enjoy the intended benefits of TruQuantity™. For our first time customers, simply being able to try the new technology, at a low price, is the prime consideration. With a lower MSRP, more customers will get an opportunity to enjoy the benefits of LocoFi™. Shipping We are also temporarily suspending FreeShippingForEver™. Instead, a flat rate of $5 per shipment in the 48 contiguous US states and $10 for other destinations, will apply. The above changes will be effective from 21-Jan-2019. Please note that customers who are already enrolled in TruQuantity™ and FreeShippingForEver™, will continue to enjoy the benefits until they expire. Better still, they will enjoy even lower TruQuantity™ prices, now based on the lower MSRP. _________________________ 2. SOUNDS Many of you have asked for prototypical sounds. While we work on them to get you the best quality, we wanted to let you know about some of the innovative and unique features of sound in LocoFi™. While most are aware that LocoFi™ allows you to play your own sounds via the on-board microSD card, no one probably realizes the power of it. Let's look at it this way: Think of LocoFi™ module as a computer and its constantly upgradeable firmware as the operating system. Now, all the preferences, your settings and sound files are like data or content that you choose to create. You are not bound by the content provided by your hardware manufacturer or tied to the operating system. Have you ever experienced that you like the sounds in sound decoders of manufacturer A or manufacturer B? Or manufacturer C? But, maybe motor control and other functionality of a different manufacturer. How about you like one sound from one manufacturer while a different sound from another manufacturer? Wouldn't it be nice to be able to get the best of ALL worlds? Wouldn't it be nice if you could get sound 1 from manufacturer A together with sound 2 of another manufacturer? Well, it turns out that there is NO STANDARD in sound decoders. Now sound decoders don't just produce sound, they provide all the DCC decoder functionality based on a standard but the sounds without any standard. How good is that if you like to have a sound decoder. Let's solve this problem in a different way. Let's have a piece of hardware that you can load with software from any manufacturer or with your own custom if you wish. To top it all, how about you load your own content. That's right, your own sound files. And in a NON-PROPRIETARY format. We at LocoFi™ envisioned that long back in the design process. We didn't just want to give the hardware but provide one implementation that is best in its class and very much prototypical. That's what we plan for sounds too! While we are working hard to get you the prototypical sounds but we don't want to control them. It's even possible that you may not even like the sounds that we provide but we don't want you to be stuck with us because of all the great features that LocoFi™ provides only to find stuck with our PROPRIETARY sound solution. So what are our other options? Limitless! We reckon that you or somebody you know or may not know who is expert in sound recording/editing can probably do a a great job to produce a wealth of sounds that others can choose from in a NON-PROPRIETARY format. Now when we have that, we are not stuck with what any manufacturer provides e.g. "I like Soundtraxx vs I like TCS or ESU" debates. It's over. Independent creation will bring more competition and high quality value add to the hobby. We see YouTube videos of high quality work everyday that are a testimonial that it can be done and with a much higher quality. Being their own original work, the creators will be free to offer it for free or for a fee. This will also give end users a chance to choose from a variety of sources to choose the sounds from than being stuck with a given manufacturer. Further, one third party may have only one set of quality sounds (say GP7) while the other can provide another set of quality sounds (say GP9). You can choose a horn for GP7 from one and the prime mover sound from another. So, hereby we invite you, our customers, end users to bring out your creativity or call upon someone you know who can deliver some fine quality sounds and we will be happy to host them onto our website for free. All proceeds from it will go to the respective copyright owner. Let's not just count on the limited proprietary sounds. We never wanted to control anything. That was never the plan and will never be. We want to help the model railroad community by freeing them up from the chains of a technology that is so limited in features and outdated and bring about simplification, cross platform independence in way that there are no more discussions like DC vs DCC and all worlds exist in peace. There's just simple pure DC and anyone can come run their own implementation of whatever they like and without interfering with each other. Of course we need a dispatcher! It was probably too long but feel free to reply to this e-mail and share your thoughts and comments. _____________________________ 3. VOTE FOR US Have you taken this survey yet? Model Railroader magazine is conducting a survey for "2019 Model Railroader Readers Choice Award". We are proud and honored to be nominated in: Category: "Control Systems and Electronics" (Page Number: 7) Question #: 43. "Non-DCC Command Control" We also request you to please consider "LocoFi™" for Question # 58 on page 11 for the "most innovative model railroad product of 2018". Please vote for us! We stand by the model railroader community and strive to bring the most innovative and groundbreaking products to the market that are cross-platform, fun and simple, yet sophisticated to use! Voting ends on January 16, 2019. Winners will be announced in the May 2019 issue. As a bonus, every voter is eligible to win a Model Railroader prize package from the Model Railroader magazine. Please see their website for more details.
---
16-Dec-2018: New app update 2.10 now available + more...
---
1. App update 2.10 now available
(includes new firmware)
Highlights of this update include:
1. Ability to configure locomotive. The first capability, in a long list of upcoming ones, is auto reversing lights.
2. Introducing cab sounds and throttle vibration haptic control. No more looking at your screen for notching up/down, except, of course when you want to read the speedometer ;-)
3. Ability to set app preferences.
Other updates:
1. Ability to bypass the splash screen (stored as an app preference)
2. And more... Click here to watch this quick video. Click here to read the release notes.
_______________________________________
2. Installing LocoFi™
LocoFi™ was recently featured on TSG Multimedia's YouTube channel. Watch the following video as John Abatecola of TSG Multimedia installs a LocoFi™ module in the HO Kato C44-9W.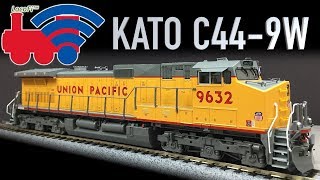 How To Install A LocoFi™ Module HO Kato C44-9W John's Models
_______________________________________
3. Coming soon on LocoFi™
Amrit™
The immortality solution for dead rail and dirty track
Uses a tiny rechargeable battery that fits inside most HO scale locomotives. The loco works off of track power
when available and simultaneously charges the battery. With average run times of almost 5 minutes* without
track power, you don't lose control of your loco. Battery can be swapped for higher capacity for extended run
times.
*Estimate is based on test results with a typical locomotive that consumes 0.5A at 15V with average use of sounds.
---
25-Mar-2018: LocoFi in the News, Model Railroader Reader's Choice Award, ... and more!
---
It has been a while since we wrote to you last. While we have been taking a break from our roadshow across the country, we have been busy working on our next MAJOR update. Yes, you guessed it right - CONSISTING!!! While we are at it, we thought that you might want to set your engines ready for it. Our next major app update 2.20 released March 25, 2019 expands on the ability to configure your loco introduced in our last app update 2.10. Download the latest app from Google Play Store, upgrade the firmware and explore some of the ways you can configure your locomotive. Please check out the release notes and the LocoFi™ Locomotive Configuration Cheat Sheet (copy attached) under Resources to learn more about this and other added features. This will set the stage for our next major update due to be released very soon that will let you MU or consist the locomotives together. YOUR FEEDBACK IS CRITICAL TO THE EVOLUTION OF LocoFi™! PLEASE REPLY TO THIS E-MAIL AND LET US KNOW WHAT YOU THINK ABOUT THE LOCO CONFIG OPTIONS
YES! It's official! LocoFi™ has been voted the WINNER in the category of Control Systems and Electronics - Non-DCC Command Control Thank you! Thank you! Thank you! It wouldn't have been possible without your support.
---
25-Dec-2019 Happy Holidays from WiFi Model Railroad LLC
---
Did you know that WiFi Model Railroad offers NMRA members an exclusive

10%

discount? The company also donates

5%

of purchase prices to the NMRA to promote the hobby! For details, please visit the NMRA Partnerships page. We were also the Partner of the Week for the week of September 21, 2019. Check out this Facebook page for details.
Our Christmas gift to you! One more new generic diesel sound scheme added to the library. We hope to add more to the list in the future.
Are your sound files corrupted or can't seem to find the backup. No worries. Now you can download the sound files directly from the Resources section of our website. Once again, calling sound professionals. Your sounds can appear on the page too!. A great way to share the joy of model railroading.
Sound volume editing guide is now available under Resources as well.
We heard that many of you have only Amazon Fire tablets or maybe you needed more hands at an ops session to operate your other LocoFi™ trains and just happened to have only a spare Amazon Fire tablet. We realized that porting from Android to Fire OS wasn't a big deal. Result is that the LocoFi™ controller app is now available on Amazon Appstore.
Not much wait anymore! Production issues with DDLLHB have been resolved. Please allow about 4-6 weeks for the LocoFi™ 2nd Generation board to be available for sale. We know a lot of you have been looking forward to the smaller board. We thank you for your patience. Some specifications of DDLLHB have changed. Please take a moment to review the changes highlighted in

bold

on the DDLLHB product page.
---
31-Jan-2020: You asked for it! We present you the LocoFi™ 2nd Generation module (DDLLHB)
---
With almost the same features as its predecessor DDLLHA, the

LocoFi™ 2nd Gen

is significantly smaller and performs better!
We've put in a lot of effort to come up with a smaller version that many did not think was even possible! Rest assured, it can be brought down even further in size and our team is dedicated to it. We had to make several design iterations before we could bring it to you in this size and better. We thank you for your patience and support during this time.
Here's an overview of how it's different from its predecessor:
Smaller by more than

40%

in length,

60%

by volume
Just like everything else these days, its much

thinner

More than

twice

the onboard capacitance
More

reliable

WiFi communication

Improved

sound quality
Lower motor current rating of

1A

Lower start voltage of

7V

- yes! you can now power with 2S LiPos
Sometimes smaller is better!
Here's a small video clip of deadrail operation powered by a 2S LiPo in a trailing car.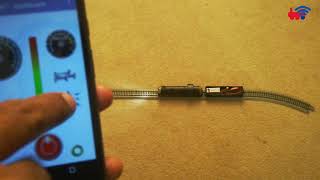 We also released part 1 of the much overdue video about the app update 2.20 released back in March 2019.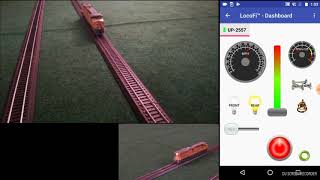 Part 2 will present speed matching (a requirement for consisting). For those who can't wait for the part 2 of the video, just head to the

Resources

section and download the

LocoFi™ Locomotive Configuration Cheat Sheet

that explains how to do it

SIMPLY

!

Fun trivia

We love railfanning and visiting layouts. From now on, we would like to share some video footage that we shoot whenever the opportunity presents. To start with, one such great layout is San Diego Model Railroad Museum we visited very recently. This is best known for the famous Tehachapi pass. Below is a video of a train going downhill the Tehachapi pass.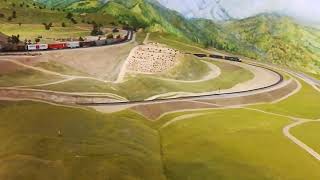 We also shot a video of another train going uphill. Please let us know in the comments section if you would like to see that as well.

This is just for pure enjoyment. A bonus from us to you!

Did you know?
With LocoFi™ equipped loco on the track, you can power either rail with positive or negative polarity of the power supply. The loco direction is controlled by the SmartThrottle™ app.

You DON'T have to be careful

in wiring the black and red leads of the module to either side of the trucks.

You DON'T have to be careful

in connecting orange and grey wires to the motor leads. If the engine runs in reverse, fix it with a simple setting in the app.

You DON'T have to be careful

in wiring the front light in the front and rear light in the rear. A simple setting in the app lets you reverse the lights direction if the front and rear lights are ever swapped.
---
20-May-2021: Introducing 3-D printed mounts to install LocoFi™ 2 (DDLLHB) in Athearn RTR and Blue Boxes
---
Athearn RTR and Blue Boxes being our most popular DC to LocoFi™ conversions, unfortunately have a big drawback. There exists no proper way to mount the LocoFi™ board. It ends up flopping around in the loco after a while. Although not damaging, the board, wires and/or speaker occasionally may come in contact with the moving parts within the loco causing friction and some noise making. On rare occasions, a loose wire or two may get stuck in the flywheels bringing the loco to a complete stop. In general, it requires some out of the box thinking to fit the module under the shell of an Athearn RTR or a Blue Box.

Well, now you can relax! We found that all (or most) RTR and Blue Boxes have a common design. The plastic bracket has 4 small projections to hold the top motor clip. Realizing that, we have designed a mount around that and successfully 3-D printed it to bring it to you. Please watch the following video for more details: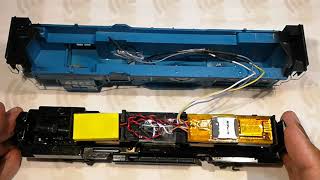 The mount makes it easy and aids in the physical installation of the LocoFi™ 2 (DDLLHB) module. With wires out of the way and neatly tucked away, it holds the board and speaker nicely in their cradles well away from the moving parts. This goes to show yet another way we are customer driven. If you have a particular loco in mind that you would want a mount for, please drop us a line with scale, make and model of the loco and with enough votes we will bring it to market.

Please note that you will still need to solder the 7 wires. The use of mount just makes it a breeze to install.

Got any RTR or Blue Box waiting to be converted to LocoFi™? SHOP FOR MOUNTS __________________________________________________ Did you know? Did you know that if you don't want sounds, simply replace them with blank sounds? It's that simple! It may be useful for example if continuously running engine sounds in the background bother you and you like quieter operations. Horn and bell are always optional for you to play.
---
30-Mar-2020: TWO years in a row! ... LocoFi remains WINNER of the 2020 MRR Reader's Choice Award
---
YOU did it! WE did it!!
AGAIN!!!
Thank you so much to all our patrons, customers and well-wishers! 2 years in a row, LocoFi™ has been awarded WINNER of 2020 MRR Reader's Choice Award. Readers of the prestigious magazine, and discerning model railroaders like you, have established LocoFi™ as the foremost choice when it comes to modern technology based locomotive control. Video Series: App Update 2.20 - Part 2: Speedmatching Watch the next video in this series to learn how to "speedmatch" your locomotives with the latest LocoFi™ app update. This is also important to lay the groundwork for upcoming updates to enable consisting.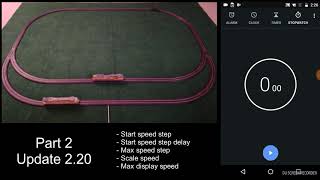 Celebrate with additional 5% off!
This has been a journey which has been possible, and more so, enjoyable with your continued involvement, support and feedback. Thank you and celebrate with an additional 5% off through next week.
Shipping fee updates
Due to increase in postal shipping rates, our shipping fee has changed slightly. Now international shipments, excluding Canada and Mexico, will be charged $15 per shipment. Other shipping fees remain unchanged.

----------------------------------------------------------------------

COVID-19 updates




We hope this finds you safe

and still able to enjoy your hobby responsibly. We want to let you know that online ordering is still available and that we've taken the necessary steps to protect the health and safety of our entire team. With many of us working from home, we hope that has been able to provide you with an opportunity to spend more time with your layouts. And we're here to help you to continue to explore the world of modern locomotive control. From brakemen to engineers, we're only as strong as all of the participants in the railroad economy and beyond. We don't know what the end of this tunnel looks like yet, but we do know that we're all in it together. As members of the model railroading community, we are committed to having each other's backs and navigate the climbs and curves ahead.
---
22-May-2020: LocoFi™ turns 2!... Memorial Day sale!
---
USE COUPON CODE
MEMDAY20
TO SAVE AN ADDITIONAL 5%


LocoFi™ Turns 2! Yes!
We opened our online store exactly 2 years ago on
May 22, 2018.
Read about our brief journey
WINNER of MRR Reader's Choice Award
TWO years in a row!
If you have more than one LocoFi™ modules,
you don't even need a WiFi router!
Simply connect your smartphone or tablet

directly to one of the modules and add the other to the network created by first module!
It's that simple!

---
12-Jun-2020: Join LocoFi™ over Zoom on Jim Kellow's (MMR) "New Tracks" on 06/13/2020@4PM PST
---
MEET LocoFi™ ON 06/13/2020@4PM PST ON JIM KELLOW'S (MMR) "NEW TRACKS"
We will showcase LocoFi™, installation of the module, setting it up and running it. If time permits, we will cover various config features, other interesting aspects and sound editing. It will be an interactive Zoom session so please feel free to come with your questions and we will try to answer them.
While we couldn't be at any shows this year, this is an even better opportunity for ALL (including those who aren't always able to make it to the shows) to join us in LIVE action. _____________________________________________ Did you just purchase a new module? Check out the following video to get things running quickly.
There have been several updates to our app and firmware in the past. We have introduced new features, fixed some annoying bugs and overall tried to improve user experience and "simplify" app/loco operation. As such some of our past documentation and/or videos may be somewhat out of date. The following video is an attempt to show how easy and quick is it to get your loco running after the module has been installed and app downloaded.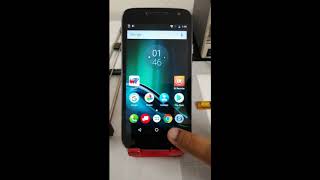 ---
01-Jul-2020: July 4th Sale + Recorded Zoom sessions
---
July 4th Sale is ON! Now through July 05, 2020 Take off additional 10% at checkout with coupon code FREEDOM _____________________________________________ For those who missed the LIVE Zoom sessions, here are the recordings: Watch interactive Q&A, installation and demo! 6 20 20 NMRA Coast Division Meetup
(Presentation and demo of the LocoFi™ to the NMRA PCR Coast Division)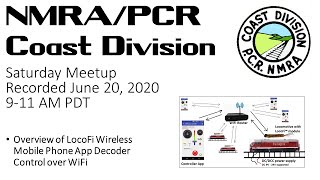 New Tracks June 13
(Presentation and demo of the LocoFi™ on Jim Kellow's (MMR) "New Tracks")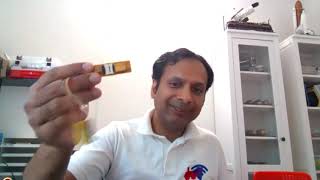 ---
29-Jul-2020: LocoFi™ Forum is LIVE!
---
We know that many of you have been asking for this. So here we present our own platform for sharing and exchanging,
We created our own discussion board where users can share their experiences, ask questions and help others by answering them. This will be a place where the LocoFi™ community can come together and exchange ideas. Another reason we created our own forum was to create a platform to filter out noise and rumors. It will be a common platform where you can hear from the ones who are using it, sometimes in very unique and innovative ways. This could even be a place where users can submit any bug reports and/or feature requests. We would love to hear what modelers can imagine the future to be like in a few years down the road and how LocoFi™ can help bring that to reality. So, please feel free to go ahead and get involved! __________________________________________________ LocoFi™ 2 gets reviewed in MRR If you are a Model Railroader Magazine subscriber, don't forget to check out the review of LocoFi™ 2 in the upcoming September 2020 issue. If you are digital subscriber, you can get instant access right now: Read here STAFF REVIEWS WiFi Model Railroad LocoFi 2 Wi-Fi module By Dana Kawala | Published: Tuesday, July 21, 2020
_________________________________________________ Did you know? You can take your LocoFi™ equipped locomotives to any DC or DCC powered layout without changing a thing.
---
17-Nov-2020: LocoFi™ Thanksgiving sale 2020 starts early!
---
__________________________________________________ A Superb Testimonial
A Hearty Endorsement _________________________________________________ LocoFi™ will be there! WATCH US LIVE! SATURDAY NOVEMBER 21, 2020 AT 1PM EST In these times of pandemic, virtual train shows offer the opportunity to meet with the vendors from the comforts of your home!
Click for Details _________________________________________________ First sound contribution from our customers comes from Switzerland! Download Sound files for Swiss E-Loco Re 4/4 I _________________________________________________ Did you know? For those who aren't deadrail, longer sections of "dirty track" can cause sound glitches or enough power loss to simply bring the locomotive to a complete stop. While the much awaited Amrit™ is delayed, currently commercially available 3rd party "charging from the track" can work equally well. Be it a battery based or supercapacitor based, as long as you put them in series at the output of a bridge rectifier and ensure that the rated voltage at the track isn't exceeded, they can do the job.
---
---